The Children of Odin: The Book of Northern Myths
Padraic Colum (Autor), Willy Pogany (Ilustrador)
"Padraic Colum (8 December 1881 - 11 January 1972) was an Irish poet, novelist, dramatist, biographer and collector of folklore. He was one of the leading figures of the Celtic Revival.
Colum was born Padraic Columb in a County Longford workhouse, where his father worked. He was the first of eight children. When the father lost his job in 1889, he moved to the United States to participate in the Colorado gold rush. Padraic and his mother and siblings remained in Ireland. When the father returned in 1892, the family moved to Glasthule, outside Dublin where his father was employed as Assistant Manager at Sandycove and Glasthule railway station. His son attended the local national school.
When Colum's mother died in 1897, the family were temporarily split up. Padraic and one brother remained in Dublin while the father and remaining children moved back to Longford. Colum finished school the following year and at the age of seventeen, he passed an exam for and was awarded a clerkship in the Irish Railway Clearing House. He stayed in this job until 1903.
During this period, Colum started to write and met a number of the leading Irish writers of the time, including W. B. Yeats, Lady Gregory and AE. He also joined the Gaelic League and was a member of the first board of the Abbey Theatre. It was at this time that he dropped the 'b' from his surname. He became a regular user of the National Library of Ireland. Here he met James Joyce and the two became lifelong friends.
He was awarded a five year scholarship to University College Dublin by a wealthy American benefactor Thomas Kelly." (Quote from wikipedia.org)
This is Padraic Colum's retelling of the Eddas and the Volsung Saga for young adults.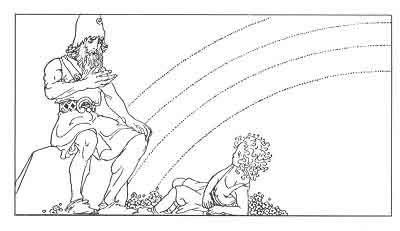 Heimdall and Little Hnossa, by Willy Pogany [1920]
Part I. The Dwellers in Asgard
1. Far Away and Long Ago
2. The Building of the Wall
3. Iduna and Her Apples: How Loki Put the Gods in Danger
4. Sif's Golden Hair: How Loki Wrought Mischief in Asgard
5. How Brock Brought Judgment on Loki
6. How Freya Gained Her Necklace and How Her Loved One was Lost to Her
7. How Frey Won Gerda, the Giant Maiden, and How He Lost His Magic Sword
8. Heimdall and Little Hnossa: How All Things Came to Be
9. The All-Father's Forebodings: How He Leaves Asgard
Part II. Odin the Wanderer
1. Odin Goes to Mimir's Well: His Sacrifice for Wisdom
2. Odin Faces an Evil Man
3. Odin Wins for Men the Magic Mead
4. Odin Tells to Vidar, His Silent Son, the Secret of His Doings
5. Thor and Loki in the Giants' City
6. How Thor and Loki Befooled Thrym the Giant
7. Aegir's Feast: How Thor Triumphed
8. The Dwarfs Hoard, and the Curse that it Brought
Part III: The Witch's Heart
1. Foreboding in Asgard
2. Loki the Betrayer
3. Loki Against the Aesir
4. The Valkyrie
5. The Children of Loki
6. Baldur's Doom
7. Loki's Punishment
Part IV. The Sword of the Volsungs and the Twilight of the Gods
1. Sigurd's Youth
2. The Sword Gram and the Dragon Fafnir
3. The Dragon's Blood
3. The Story of Sigmund and Signy
4. The Story of Sigmund and Sinfiotli
5. The Story of the Vengeance of the Volsungs and of the Death of Sinfiotli
6. Brynhild in the House of Flame
7. Sigurd at the House of the Nibelungs
8. How Brynhild was Won for Gunnar
9. The Death of Sigurd
10. The Twilight of the Gods